Wintergreen Dance Party
Franco Center
46 Cedar St - Lewiston, Maine
online tickets www.FrancoCenter.org - or call (207) 783-1585
Saturday February 17, 2018
7:00pm - 11:00pm - Doors open at 6:30
Lobby opens at 6:00pm
Snow Date Sunday February 25, 2018
DJ's / VJ's Chuck Brown
Bring the House Down
Tickets $12.00
$15.00 at the Door
Sponsored by the
Maine Green Independent Party
School's Out for Vacation in Lewiston / Auburn
All Ages
From senior co-chair Jon Olsen:

Why is there a Green party? Let me count the ways:

1. We have a political system addicted to petroleum, war-making, and pharmaceutical drugs, and their influence annihilates even mild political opposition within the two corporate parties--witness Kucinich, Dean, and Sanders. Instead they gave us Hillary and Donald.
2. Global climate change is a fact of life, but one of the corporate parties imagines it is imaginary!
3. The Bill of Rights gives us assurances that the government will protect us from abuses, yet water protectors are brutalized, women's reproductive privacy needs are violated, prisons have become medieval dungeons, and black and brown people are killed for trivial traffic offenses, like missing a tail light! Then their killers are acquitted.
4. We desperately need a single payer medical system, and instead they sabotage even the highly inadequate gains made under what they derisively call "Obamacare," with a plan far worse, all to give back
even more wealth to those who are obscenely rich already!

And so MUCH MORE! Get it now?
The Maine Greens and Maine Green Independent Party have a long and storied history, plentiful in electoral successes and significant contributions to the formation and development of a national Green Party. We hope to collect and compile our rich past as a resource to newer members, students, historians and our tenured members who may find nostalgia in recalling the excitement that filled the air in our earliest days, our developing years, and our entrance onto the political stage with members getting elected to office. The energy continues in the present as we build on the successes of our past as the foundation to our empowerment in the future.
This section is under development and will be updated throughout the coming months, and years even, as we continue to make future history with the work we do now.
Check out Early History of the United States Green Party, by Mike Feinstein and John Rensenbrink.
Check back here on occasion to see what gems we dig up to share with you.
The Maine Green Independent Party (MGIP) was founded in 1984, six months before the establishment of a national Green Party. We are the first and oldest state Green party in the United States of America, and home of John Rensenbrink, principal founder of what is now the Green Party of the United States (GPUS).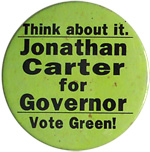 We first became a qualified political party in 1994, after independent candidate Jonathan Carter received 32,695 votes, or 6.4% of the total votes cast for governor. We were officially called the Maine Green Party until we were scheduled to become disqualified in 1998 after 1996 presidential candidate Ralph Nader did not garner 5% of the vote in the 1996 presidential election -- a requirement at the time which has since changed. 

In 1998, independent candidate Pat LaMarche for governor with the attribution "Green Independent" on the ballot, to help re-qualify the party. Since the Maine Green Party had appealed to the Maine Supreme Court for an injunction to challenge our disqualification, LaMarche was unable to use the descriptor "Green" as an independent candidate, because technically, the Maine Green Party was still qualified while awaiting judgment -- hence, "Green Independent."
For a glimpse into the history of the then-Maine Green Party's legal battle against party disqualification, click this link to a party archive.

When LaMarche received 28,722 votes, or 6.82% of the votes cast, our party re-qualified as the "Maine Green Independent Party." Although our name change occurred by happenstance, it is an accurate descriptor of who we are. Maine is known for political independence. As Greens, we are independent from corporate control that permeates the major parties, and we assert our independence as a state party to remain focused on issues important to Maine. 

In 2002, Carter ran again for governor, this time as the Green Independent nominee -- our first nominee for governor as a qualified party -- receiving 46,903 votes, or 9.3%. In 2006, LaMarche, like Carter, ran a second time -- also her first run as a qualified party nominee -- receiving 51,922 votes, or 9.56%. This is the largest number of votes ever received by a Green candidate in Maine.
In 2001, the first Green was elected to office in Portland, after which Greens have won 20 more elections in our largest city. Among them, Rep. John Eder (G--Portland) became the highest ranking elected Green in the nation in 2002, serving for four years.

With 44,569 enrolled Green Independents, or 4.2% of total voters as of the 2016 state election, the Maine Green Independent Party is the largest state Green Party per capita in the U.S. We almost always deliver the highest percentage of votes in the nation to our presidential nominee every four years.

The MGIP is an affiliate of GPUS. We are committed to 10 Key Values (in alphabetical order, all of equal importance):

    Community-based Economics   
    Decentralization
    Ecological Wisdom 
    Feminism and Gender Equality
    Future Focus and Sustainability 
    Grassroots Democracy
    Non-Violence       
    Personal and Global Responsibility
    Respect for Diversity
    Social Justice and Opportunity
 
Collectively, we represents planet, people and peace before profit. 
 
We promote longterm interests of Maine people and aspire to leave Mainers a state that is healthier, safer and more just. As Greens, we believe the quality of our natural environment is intrinsic to a prosperous economy, healthy populous and quality of life for all.

Our goal is to improve democracy toward these ends -- to elect officials who uphold our values, and hold elected officials accountable to our Green vision.

The longstanding alternation between two political parties indebted to corporate interests has served neither people nor environment. We call upon Mainers to break free of attachments to "two-party" democracy and build a democracy where no single interest is afforded majority control of government that should be working for a diverse society.

We welcome you to MGIP!. Many of you are Green already, although you may not realize it yet. Those of you who have already affiliated with us, please run for office to advance our ideals or support other Greens who will.

For more information, please contact using the contact link.
This website is designed and formatted, starting in 2017, by the MGIP Communications Committee under the direction of MGIP Secretary Benjamin Meiklejohn, using a modified version of the Joomla 2.5 Forest v5 template design, originated by Webdesign aus Tirol and Joomla 2.5 Templates by pc-didi.at, and Joomla 2.5.14 CMS: predesign by Webdesign PC-DIDI - SEO Suchmaschinenoptimierung SEO - Hundefriseur Irene Hundefriseur
MGIP Communications Committee at time of website development:
Benjamin Meiklejohn, committee chairman
Alan Brown, Gil Harris, Fred Horch, Sam Smith, and ex-officio members, MGIP Co-Chairs Jon Olsen and Riva O'Rourke
The Maine Green Independent Party (MGIP) was founded in 1984, six months before the establishment of a national Green Party -- the first and oldest state Green party in the United States of America, and home of John Rensenbrink, principal founder of what is now the Green Party of the United States (GPUS).
Browse our site, explore our history, platform, issues, elected officeholders, candidates, organization and goals for your future.